Work with John
Anyone can connect and find their flow. Explore the different ways here.
November 2023
Body Centered Leadership Retreat
November 2nd-6th, 2023 | Palm Springs, CA
Entrainments
At each of our One Day LA Events, each participant will receive Two Entrainments with DC. John and DC. Christina. With the "group style" setting, our small events are designed to create the most immersive experience for each individual with the impact of the group field.
Learn
Between the sessions on the table, John will take the group through foundational content on Energy, Consciousness, and how to implement this work into your daily life. The day includes a Q&A with John and Christina, a workbook of resources and practices, and a post-event webinar following the event with John.
The Experience
With the event taking place from 9:30am-7pm on Saturday, this day is created for YOU. Our chefs cater the day with a delicious meal, snacks, and smoothies to enjoy in the beautiful setting of our private luxury venue. Throughout the event, you will be led through a series of energetic processes and practices to assist in taking this work to an even deeper level, to truly leave Fight/Flight behind to live in a state of Flow.
One Day LA Event Details
• 14 Guests
• Located in a Private Luxury home in Los Angeles Area
• 9:30am-7pm
• $2,500
John's Weekend Intensive is three full days of total immersion, designed for those who are interested in taking their knowledge and learning to another level to create and live an Energy Rich Life.
Entrainments
Throughout the weekend, each of our guests will receive Four Entrainments on the Table with DC. John and DC. Christina. The sessions will be spaced out throughout the weekend with content, practices and activities between. Each session will build off of the previous one, to create the most immersive and impactful way to experience John's work.
Learn
With specialized topics that rotate with each Retreat, these weekends are designed as a complete immersion to deepen your understanding of Energy, add to your tool-kit, and expand your awareness to release the tension and stress we carry from our day-to-day lives to live a more free, Energy Rich life.
The Experience
Between Sessions on the Table, John and Christina will lead the group through processes, exercises, and practices all geared to create more connection, flow and coherence. With a Friday morning arrival, guests will be with us until Sunday evening for a full three days of sessions, learning, and an unforgettable experience. Our chefs will cater the weekend with delicious, healthy food, and our team is there to cater to any and all needs.
Weekend Retreat Details
• 20 participants
• Friday Morning- Sunday Evening
• $7995
Body Centered Leadership is John's Premier Year-Long Mentorship program. Our objective for BCL continues to be to help you discover and integrate both modern and ancient "technologies of transformation"—energy-elevating and awareness expanding methods that help you connect to and cultivate your physical, emotional, mental, spiritual and energetic capacities —so that you can realize these higher dimensions of energy and consciousness in your everyday life.
BCL's program and content is designed to assist leaders and high-achievers discover and cultivate the balance between outward success and inner fulfillment. Our philosophy is to assist participants in developing reproducible tools to counteract the stresses of their professional pursuits while simultaneously freeing up energy and space for continued exploration, expansion and growth. With four immersive workshops, multiple 1:1 sessions, community, monthly webinars and more, Body Centered Leadership is the ultimate transformational experience.
Entrainments
Our Body Centered Leadership group meets Four Times a Year in locations across the U.S with one trip abroad, and one optional Spiritual Trip. At every BCL Retreat, each of our BCL Members receive Five Entrainements on the Table. Between the sessions, John and Christina take our members through guided processes, meditations, teach practices, and support guests individually throughout the weekend.
Learn
Each of the Four Body Centered Leadership Retreat Weekends are a deep dive focused on a specific topic, with our Spiritual Trip an optional addition. BCL also boasts monthly group Webinars with John, and Energy School and a weekly Meditation Monday led by John's Wife and fellow BCL co creator, Christina Amaral.
1:1 Mentorship
Join the family. As a Body Centered Leadership Member you get direct access to John and Christina personally, as well as our digital Group Chats with the other members so BCL can be part of your everyday life.
Body Centered Leadership Details
• 25 BCL Members
• 3 Retreats in the USA, 1 International Retreat
• Monthly BCL Webinars, Membership Site & Chat Group
• Contact for pricing
Body-Centered Leadership is a year-long program limited to 25 participants each year. The program requires a significant financial commitment as well as approximately 20 days throughout the year.
John and Christina are some of the most impactful coaches and mentors in our lives. World class. We joined their Body Centered Leadership program after meeting them through Tony Robbins. Their program is transformational and one of the best investments we have EVER made. Whatever it takes, be a part of their world.

Shannon Smith
I broke through a wall, a haze. I could suddenly see everything is connected and my body was the access point to that connection. The resulting stillness and clarity gave me a sense of confidence that I have only felt a handful of times in my life – it hasn't gone away.

Jamie Moran
There has been an unimaginable substantial growth in absolutely every area of my life. Physical, spiritual, emotional, business, family. BCL is the only program that I will continue doing.

Dawn McIntosh
Working directly with John has produced growth and abundance or me that is truly astonishing. The unbound energy, accelerated momentum, and true peace that I've experienced in the last year has given the quality of my life a whole new, and incredibly fulfilling dimension. This new realm of clarity and awareness has given me an ROI that is unimaginable.

Howard Fineman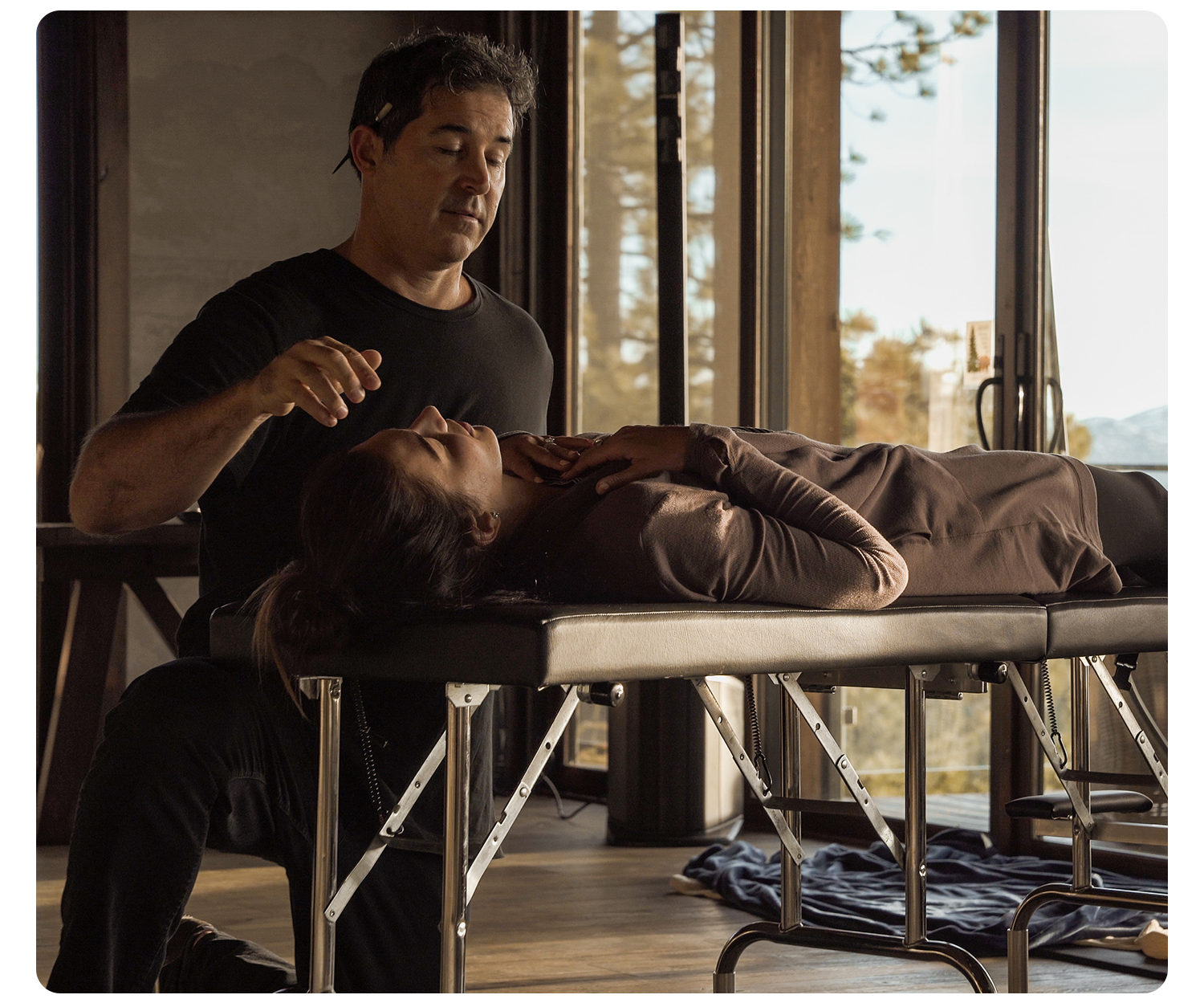 Private Appointments
One-on-one appointments with John are available in the Los Angeles area, and elsewhere by request, on an extremely limited basis. John helps his private clients recover from physical injuries, navigate emotional crises or prepare for important events or performances.